Stamping of Documents
How to get your document stamped. Methods available.
Stamp paper is required for giving legal sanction to any kind of documents like Affidavits, Rental Agreement, Indemnity Bonds, Sale Agreement etc. Previously, stamp papers were easily available anywhere but after the Telgi scam it has become difficult to get a stamp paper. Even the banks have now stopped printing of stamp papers.
There are only 2 ways via which you can get your documents stamped : one is Franking, another is e-Stamping.
Franking:-
In this method you typically prepare the text and get it printed on a paper from one of the numerous shops around govt offices like in Koramangala BDA complex. They will also get it franked for you if you pay them some 20/- Rs extra or you can stand in line in the sub-registrar's office and get it franked yourself. A stamping machine is used to render a stamp on the paper, authenticating it, and showing the stamp value (also has sub-registrar's signature). Please refer the below Image of Stamp: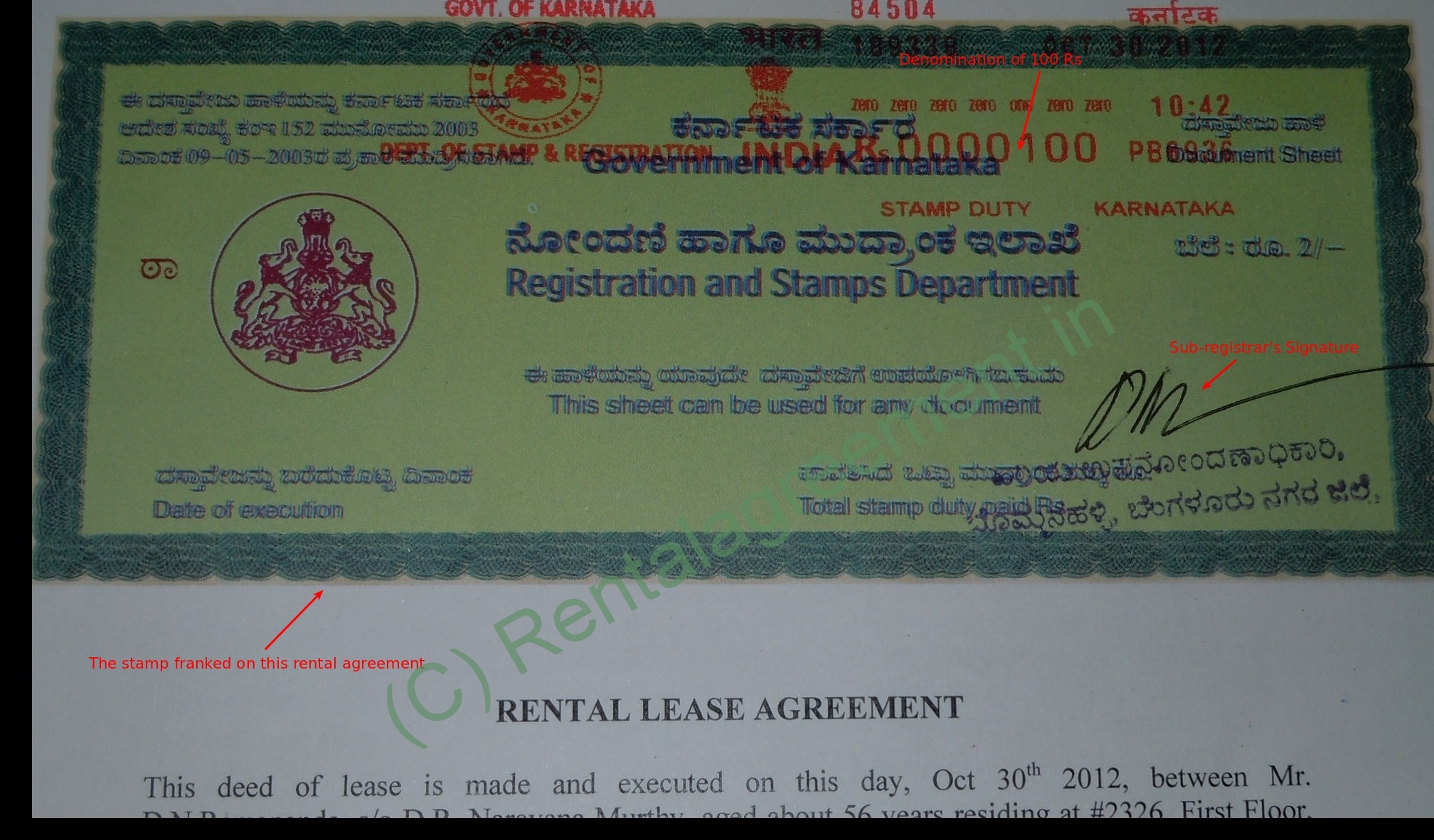 e-Stamp:-
Stock Holding Corporation of India Limited (SHCIL), a public ltd. company, is the official vendor of e-stamps. They have a professional set up and you dont have to wait too long for getting your work done. You just go to any one of the SHCIL branches and ask them for e-stamp. They will give you a form in which you have to write details of the agreement like: first party name, second party name, purpose of the agreement, denomination of stamp paper like 100 Rs, 200 Rs etc., and who is paying the amount. Other fields are optional. You will have to verify all the spellings/details while the operator is entering the details filled up in form. For denomination greater than 1000/-, the operator first prints details on a simple paper, then takes your sign of verification and then only gives you the e-stamp.
SHCIL has different timings. For Bangalore People: Timings of SHCIL branch: 10 am - 4 pm on weekdays 10 am - 12:30 pm on sat
SHCIL Karnataka